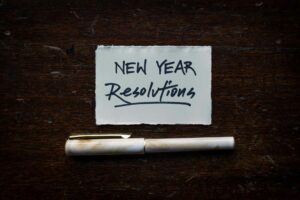 We can't believe 2023 is here! We had an incredible 2022 at Climate Wise, read more about our year here in our Impact Report 2022. As we look to the exciting year ahead, now is the perfect time for companies to decide on New Year's resolutions. When looking at how we can better our business let's also look at how we can better the planet. To help you out we've written a list of 23 sustainable New Year's resolutions.
Create a plan to reach net zero. Ensure the company or organisation you represent has an achievable and realistic plan to reach net zero.
Collaborate with others to create an effective net zero plan.
Focus on all aspects of your organisation, not just its carbon footprint.
Educate your team on sustainability topics to ensure everyone is engaged in your climate-positive journey.
Share your plans with the public and get their feedback.
Focus on the community alongside the environment, to create a sustainable world we need to focus on people and the planet.
Consider all your scope 3 emissions, these indirect emissions can often contribute most to your corporate carbon footprint.
Speak to your suppliers, look at their sustainability credentials and help them become more environmentally friendly.
Look into your products, could you replace anything with greener technology or solutions?
Support organisations working to create a better planet for us all, look at local initiatives taking place.
Spend time at least once a month discussing sustainability with your team and engaging in green activities.
Ensure your company's climate targets align with global and national climate targets.
Discover the power of a circular business model and how it could benefit your business.
Push for policy changes and stand out as a sustainable leader in the industry.
Engage with and educate younger generations, they are the ones who will feel the effects the most, is there more you could be doing to increase dialogue with youth?
Raise awareness, this may be through a company-wide campaign or simply talking to clients.
Share your success stories, inspire others to follow suit, and take meaningful action by sharing the leaps your company has made.
Look into the waste your produce, can it be minimised?
Do you need to travel as much as you do? See if you can reduce your business travel footprint.
Ask your employees to look at their commute, and encourage sustainable methods of transport to create a climate-conscious workplace.
Become a B-Corporation or a signatory to the United Nations Global Compact.
Support conservation efforts to preserve and restore our natural planet.
Ensure your corporate carbon footprint is smaller than last year's!