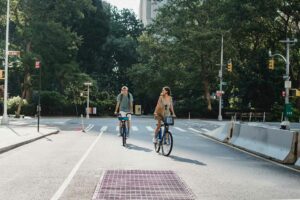 World Car Free Day takes place on the September 22nd, it is an opportunity for people globally to experience a world without cars in villages, towns, and cities. Removing cars from our roads has numerous benefits and transitions our economies away from polluting fossil fuels. The primary aim of World Car Free Day is to show streets as places for walking, cycling, and public transport – demonstrating that urban life is possible without cars. The alarmingly high levels of greenhouse gases in the atmosphere coupled with the skyrocketing oil prices are the reason 2,500 cities participate in this event.
What is the impact of World Car Free Day?
Carbon emissions are reduced creating cleaner air, the number of road traffic accidents is reduced, streets can be repurposed, there is less noise pollution, and people can happily walk, run, or cycle without added risks. In 2019, 17 miles of road were closed in London for World Car Free Day. A quality monitoring site in Regent Street measured that nitrogen dioxide emissions decreased by 60% compared with the previous day. Paris also measured emissions to be 7% lower than the average Sunday, with a 45% decrease in one street.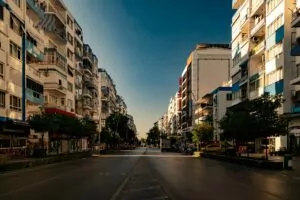 In London, more than 2 million people live in areas with illegal volumes of nitrogen dioxide in the air, this includes 400,000 children. Over 80% of urban residents are exposed to air quality levels that exceed WHO limits. Urban pollution is responsible for reducing life expectancy globally. In Germany, urban pollution takes an average of 2.4 years off a person's life, while in Italy it is 1.9 years. Transport is the fastest-growing source of fossil-fuel emissions and the largest driver of climate change.
Several benefits are quite significant such as a reduced risk of dementia and Alzheimer's due to less road traffic noise in residential areas. It's not just humans that benefit, reduced traffic benefits birds as noise pollution created by vehicles impair their ability to find food. Transitioning away from cars addresses the ecological and environmental crisis we are currently facing.
What about the other 364 days?
While World Car Free Day demonstrates the impact of removing cars from the road, we need to consider these solutions as part of everyday life rather than one day a year. When possible, people should use public transport or even walk or cycle! Measures need to be taken to improve traffic flow and reduce added emissions caused by congestion. Increasing the number of electric vehicles on the road will help reduce pollution levels, however, the infrastructure needs to be in place to support this transition. Reducing driving time through more efficient parking spaces will reduce the total emissions.
Communities are coming together to make themselves car-free. The slowdown of travel during the pandemic has given people the opportunity to reimagine where they live, giving priority to people and space rather than cars. Low Traffic Neighbourhoods (LTNs) are on the rise in the UK as car ownership falls and concerns grow over air pollution and the climate crisis. The pandemic also got rid of the morning commute, with many companies deciding to maintain work-from-home business practices and give up offices.
Transitions are achievable, we just need to prioritise them. World Car Free Day demonstrates the emission reduction possibilities of the sector that contributes most to climate change. If you want to get involved, check out Rapid Transition Alliance or find a World Car Free Day page for your nearest city such as London Car Free Day.